Flagstaff Fall Color Part Four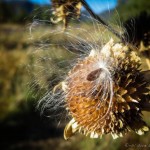 More Fall images from the past few days. All images in this and past Flagstaff posts were edited on my Laptop so please forgive odd colors if you see any! Click on the Following to see previous posts: Part One, Part Two, Part Three.
I was pleasantly surprised to encounter a couple of butterflies!
I've been having fun taking photos through a Glass Ball (I call it an Orb). I like holding the ball and thus having my fingers show in the images so it turned out to much more challenging than I thought. I held the ball in my left hand and either my Smartphone or Canon N in my right. Achieving auto focus did not always work but I ended up with quite a few winners and now I'm hooked!