Flagstaff Fall Color Part Five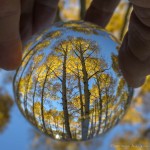 The Aspen are finally putting on a great show! This first image and a few more were captured at an Aspen Stand at the beginning of the Humphrey's Peak Trail.
Monday morning, I meet friends at Lockett Meadow and we are treated to the first calm morning since I've been here. I also find the color has progressed considerably in just a few days. We first stop for the classic reflection shot at the Tank (aka Pond). Of course, the wind started back up but not until we all got a good reflection shot.
After photographing the Tank, I put my new 55-200 mm lens to work.
My trip is winding down to the last two days which is a few days short but I'm a little concerned about the weather forecast (1-3 inches of snow!). I love the idea of fall color and snow photos but as much as I love Flagstaff, I don't want to be stuck up here!