Flagstaff Fall Color Part One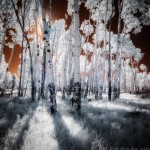 Predicting prime time for fall color is difficult because there are just too many factors involved. This year, for instance, our weather has been strange which might be the reason the leaves are turning about a week later than the past several years but who knows?! I was prepared for no color by bringing along my Infrared converted camera. Here are some of my favorite first shots.
My photos below were captured with a Canon 5D which was converted to Infrared by LifePixel There are several conversion options. I chose one which kept a little color in the files. This allows me to create faux color if I want a more creative look..