Sedona Fall Color – Campground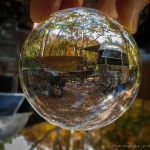 I have very weak WiFi this trip so this time, my posts will be summaries of my favorite locations. My first post will feature photos from the Campground. It sits along Oak Creek in Oak Creek Canyon under a canopy of Sycamore trees and, as you might imagine, it is absolutely gorgeous!
All photos in this post were captured with my Smartphone (android) using my favorite camera app "Camera FV-5". It is a very powerful app with practically every manual setting you'd find on a dslr. Having total control over lighting situations is great but, of course, work best if you have your phone on a tripod or other very sturdy surface. I use my knee alot (while in a squatted position). All these powerful controls come at the cost of battery power, though, so I bought an Ankor External Battery which allows me to shoot with the phone all day.