Desert Shrooms and Blooms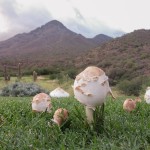 I'm back in Flagstaff but I'm not going to post anything from here until I catch up! So I will divide the rest of September into 3 posts starting with the wonderful rains we received early this month. Lots of rain is needed for Fungi to pop up in the Desert and we received both!Since Fungi like very moist environments, they are most commonly seen in lawns and golf courses but there were many puffballs spotted near an under shrubs in the desert this month much to the delight of hikers who had never seen them.
Our weather has been very strange the entire year which confused many of my plants. My Echinopsis, for instance, bloomed at the times I expected but then I had blooms very late this month which is a record late date for me. Also blooming later than normal was my Ferocactus wislizeni. Mid August is their typical blooming time but I had blooms in mid September. Of course I am not complaining! Photos below.
Oh…and butterflies are starting to show up so I'm including this image from my garden.