Shrimp in the Desert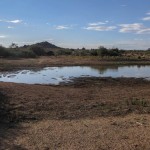 Recent rains have partially filled a cattle tank where the McDowell Sonoran Conservancy has been doing a survey documenting migrating water birds. Although I did see several birds and a few Killdeer, there were no ducks this time. Before I left, I decided to go down to the water's edge and look for tiny toads or frogs. There was lots of activity by something that looked like brown tadpoles.
I took photos and several video clips and headed home. After looking at the video, I realized they behaved a little like Shrimp and after a bit of Googling, I found out they are called Tadpole Shrimp! It is truly amazing what might be hibernating in the mud just waiting for a little rain! CLICK HERE for some information about these creatures.
Click Below for my YouTube Video.