Favorite Trails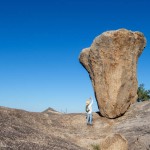 Even during summer, I do A LOT of hiking in the McDowell Sonoran Preserve (starting before sunrise). Several new trails opened this year giving us access into some really interesting places. The McDowell Sonoran Preserve now encompasses over 27,000 acres and more land is set to be preserved. The north area of the Preserve is my favorite not only because the area is very close to home but because of the amazing terrain and rock formations! Following are some photos from my favorite trails.
These next few images are from the Browns Mountain area of the Preserve.
These next images are from the Toms Thumb area which includes Rock Knob and Marcus Landslide. Breathtakingly beautiful areas!
These last images of butterflies were taken not far from the Toms Thumb area.