Posts tagged 'viet springs trail'
I loved this shot of an Atlantis Fritillary (Speyeria atlantis) and decided I would play up the dreamy look by intentionally de-focusing.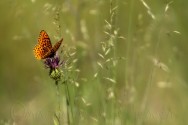 A hiker stopped as I was photographing this Fungus on the Viet Springs Trail this morning and he asked if I knew what kind it was. I replied I had no clue! I did a little research and came to realize I will have to continue to call them just Fungus 🙂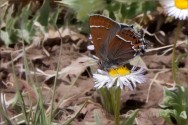 There were lots of Thicket Hairstreak as well as many other tiny butterflies on the wonderful Viet Springs trail last week. Rarely sitting still for long, they're a challenge to photograph. I applied art filters to disguise the very busy background.
Thanks to Tom H. for the ID.