Posts tagged 'cottonwood tree'
Of course I had to include at least one intentional camera movement image 🙂
Very old Cottonwood along Virgin River.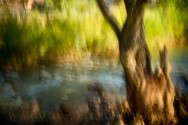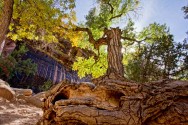 We encountered this magnificent Cottonwood tree along the trail to Lower Pine Creek Falls in Zion. It's very close to the creek so the roots are being bared a little more each time it overflows making the tree twist and turn to survive. Richard and I stopped and photographed it for quite awhile making Chris wonder what happened to us 🙂
Taken with my Canon 10-22m lens which can produce great wide angle macros.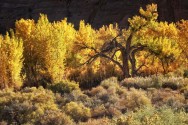 I captured this amazing Cottonwood scene in the fall of 2001. It was our second trip to Canyonlands but the first in the fall and boy did we hit a good year. Besides the trees, the shrubbery really caught my eye because it was also surprisingly colorful. We've been back several times in the fall and I always check on this area but it has never looked this amazing.
Shot with Minolta Dimage 7 (my first digital)