Posts tagged 'yankee boy basin'
Wild Rhubarb at Yankee Boy Basin last month.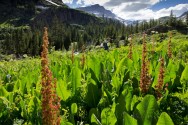 When I photographed this scene, it was glaringly bright so I knew it wouldn't make a good print. But the flowers were wonderful so I shot anyway figuring I'd have a good memory of it. I also had in mind playing with the image in various creative software with hopes I could rescue it. Topaz Simplify did a great job toning down extreme hightlights. I adjusted just to the point where the super bright highlights disappeared. I then applied Nik Glamour Glow to soften even more and bump up the color. Still not great so I decided to try Dynamic Auto Painter on it. I love this software because it allows you to save your creation as layers for future work. Voila! Fun process 🙂
our recent Colorado road trip, we went to a couple of new places above 11,000 feet. Lucky for us, there were lots of wildflowers! This scene is high above Yankee Boy Basin. The pink flowers are Wild Onions (Allium geyeri); the reddish (upper left) is King's Crown (Rhodiola integrifolia); you probably recognize the Dandelion and then the other yellow flowers are Cinquefoil but I couldn't figure out the exact species.