I'm posting a photomontage today to extoll the virtues of Photoshop Elements. Successful compositing
requires total control over the components in your project and the only way to have total control is with
Layer Masks which Elements doesn't offer. BUT you can have access to Layer Masks as well as many
other tools from the full version courtesy of Richard Lynch's Hidden Elements. His full bundle at $24.95,
gives you almost everything you'd want from the full version of Photoshop BUT even better is that you
can get Layer Masks for FREE. His free bundle has several other useful tools including a channel mixer.
The photomontage below was done entirely in Elements 7 with the help of free tool bundle from Hidden Elements.
(If you decide to try them, follow the installation instructions EXACTLY! I skipped one step so it took awhile to load).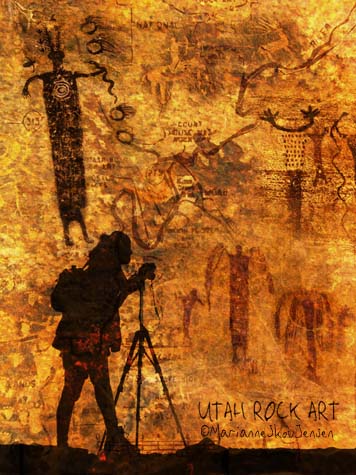 My montage is made up of 10 images: The background shot is of a rock in my backyard and then there are
5 images of petroglyphs shot in Utah a few years ago; A silhouette of a photographer that I selected out of
another image; A map of rock art sites in Utah; Two texture layers. One is a shot of tightly crumpled paper
and the other is a macro shot of a rough surfaced rock. Each of these was blended using blend modes and
opacity. Since this particular image is mostly monotone, I also use color adjustments to match the colors.
Here is a screenshot of all the layers and masking I did with Elements 7.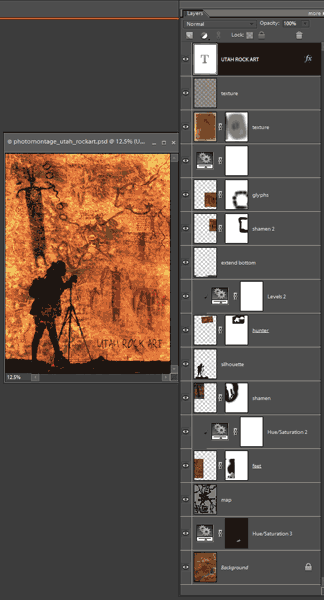 Click here for a larger version.
Katrin Eismann was who I learned from but I now know someone else who is a master at compositing!
Carol Leigh. She's been creating some beautiful photomontages and is considering offering instruction.
Her new website; PHOTOMOTIVATION will be up an running soon. Visit the site and sign up for her mailing list!